Top 8 Italian-American Dishes
There is Italian cuisine. There is American cuisine. And then there is something in-between, a hybrid of both, called Italian-American cuisine. Italian-American cuisine is not simply an Americanization of Italian foods, nor is it a poor representation of what Italian cuisine should be. It is a cuisine all of its own based on a unique history of immigration and cultural adaptations.
Italian-American cuisine was born out of necessity from waves of immigration of Italians to the United States. In Italy, there are many different cultural and regional differences in cuisine, just as there are in the larger country of the United States. This new culture of cuisine was forced into existence when the many regional cuisines of Italy were combined together as the various immigrants moved to the States. For the most part, southern Italian cuisine has the greatest representation in Italian-American cuisine, even though many northern Italians also immigrated to America, because many immigrants from Naples (Napoli) and Sicily (Sicilia) moved into the biggest American cities like New York City, Boston, and Chicago.
These immigrants brought with them to America their old world recipes and had to recreate them in a different culture, with different ingredients, and (for those trying to serve to their new neighbors) for different taste buds. Over the years, the original Italian recipes that the immigrants brought with them were adapted and changed by force, for reasons such as an inability to find an ingredient, cost-efficiency with ingredients that were more costly in America than it was in Italy, and the need to sell the cuisine to buyers with different cultural tastes.
Most Popular Italian-American Dishes
Chicken Parmigiana
A driving force in creating an Italian-American sub-genre of Italian cuisine was the change of available ingredients. Upon moving to the United States, many Italian immigrants found that their favorite ingredients were now suddenly extremely expensive or nowhere to be found. This led to many family recipes being altered. You will find that this tends to be the theme throughout this list. But not now.
Instead, Chicken Parmigiana was born out of the fact that Italian immigrants suddenly found chicken to be more easily available to them than it used to be, and therefore felt more luxurious to cook with chicken instead of their standard choice of ingredient in Italy: eggplant. Italian immigrants replaced their traditional melanzane alla parmigiana with inexpensive chicken.
Chicken Parmigiana, which can also be made with veal, is made by breading and frying a thin fillet of chicken (or veal), topping it with parmesan and mozzarella cheese, followed by yet another topping of tomato marinara sauce. The final dish is then baked. Many American families and restaurants now serve chicken parmigiana over a bed of plain spaghetti or whatever other pasta noodle they have on hand, which is an unheard of concept in traditional Italian culture because of their strict rules about incorporating meat into a pasta dish.
Pizza
Pizza is undeniably delicious. It grew quick popularity in the northeastern part of the United States when Italians entered the new country as immigrants. The popularity of the dish only grew more and more in
the 1940s as American soldiers returned from being stationed in Italy during World War II. Over the decades, the originally Italian dish has taken on so many evolutions across the many regions of the United States that I can barely recognize it as a cousin of its Italian forefather.
Americanized pizzas are made with a different kind of dough; this dough contains vegetable oil and higher gluten content, which is what allows chefs to throw about the pizza dough while stretching it without the dough tearing. Americanized pizza still uses tomato sauce primarily, but the growing popularity of unique sauces like "white sauce" are unknown to Italians. Italian-American pizzas also have a different set of popular toppings compared to their Italian ancestors. Pepperoni (a spicy salami), olives, onions, bell peppers, chicken, spinach, and pineapple are all commonplace topping options in Italian- American pizzerias.
Spaghetti and Meatballs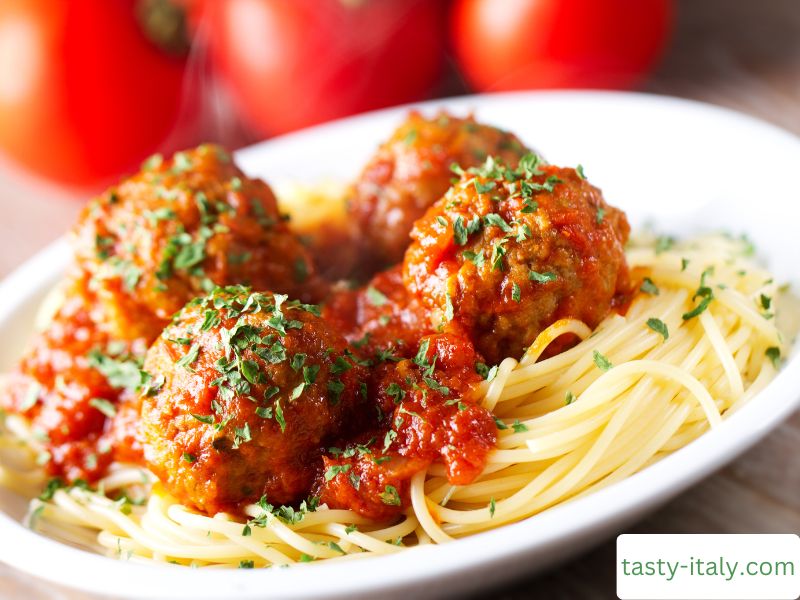 Nothing about this dish feels Italian. Spaghetti is Italian. Meatballs (polpette) are Italian. But no Italian would ever put these two foods together on one plate. Most likely, Italian immigrants combined the two commonplace dishes into one singular dish in efforts to be more cost-effective. At the time of this dishes invention, meat was surprisingly much more affordable in America than it was in Italy, so many immigrants stocked up on this luxury and treated themselves to larger sized polpette. Because they financially could, Italians added more onto this meal by preparing a simple tomato-and-pasta dish to accompany the inexpensive meatballs. This is how two Italian dishes that – according to Italian serving etiquette – should never touch the same plate together, were united in matrimony to create an affordable luxury meal.
Manicotti
Manicotti sounds Italian, but no native Italian citizen recognizes the word as the name for a pasta. In fact, this word is merely a variation of the word manica, meaning "little sleeve". Manicotti, as they are known in America, are large, tubular pasta shapes – like a giant penne pasta. Typically, manicotti are stuffed with a ricotta filling, occasionally also mixed with minced meats. The stuffed pasta is then covered by a tomato sauce and baked in the oven. This concept may sound familiar to an Italian, as it is nearly identical to what Italians call cannelloni. Italian immigrants changed the recipe a bit when they arrived in America and started customizing the fillings to appease adventurous taste buds.
Stuffed Shells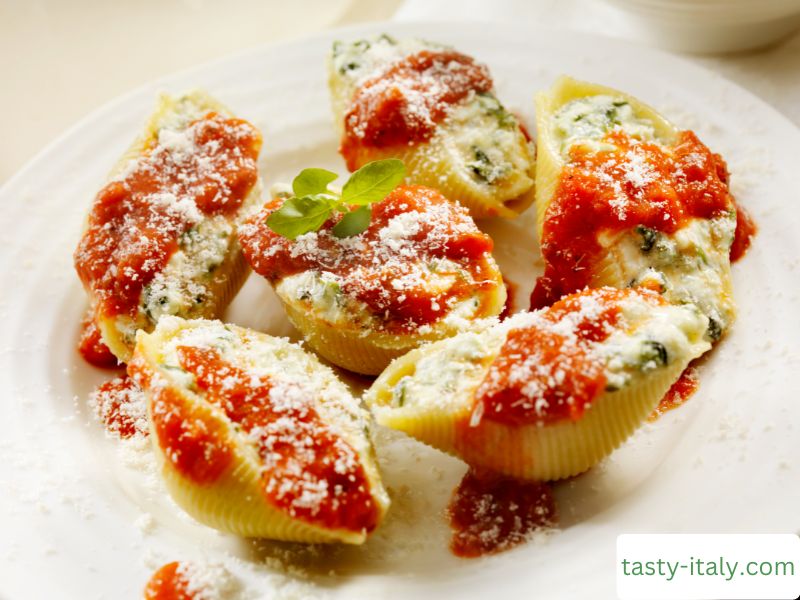 Stuffed shells have the same origin story as manicotti. The pasta dish itself is also nearly the same as manicotti, with the only change being that they are made from massive conchiglie (shell-shaped) pasta instead of manicotti pasta.
Lasagna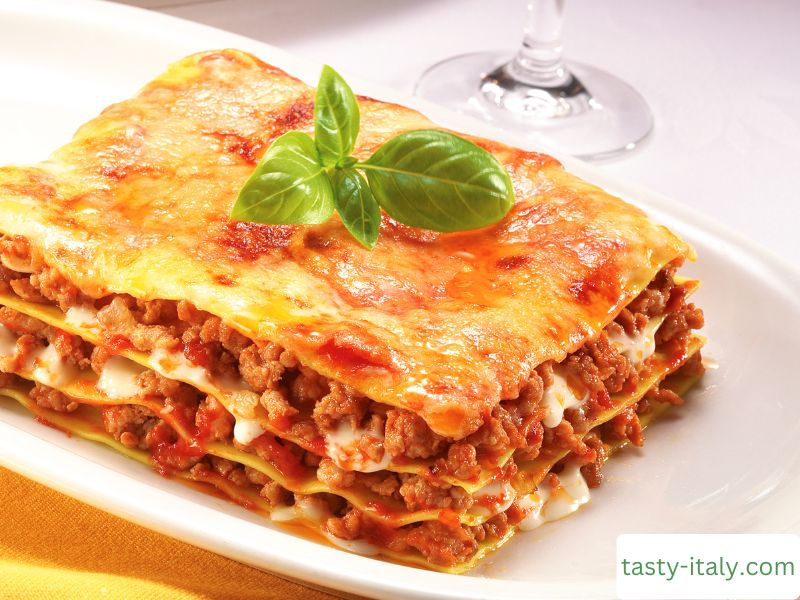 Lasagne are a very popular Italian food, especially beloved for a Sunday dinner with the family in Italy. In Italy, lasagna is made by layering long lasagna noodles, creamy béchamel sauce, and meaty ragù. The final casserole-like pasta is then cooked in the oven. Immigrants crossing the border held on to their fond Sunday memories of lasagna and brought their nonnas' recipes with them. Unfortunately, the tender, loving care required to make lasagna did not last long in fast-paced America. Ingredients changed based on availability, and, more importantly, time efficiency.
This Italian-American dish is now made largely with pre-prepared ingredients – which also means most Americans use ready-to-use ricotta cheese as the creamy sauce instead of whisking up a homemade béchamel sauce.
Wedding Soup
Italian Wedding Soup earned its name from a confused translation. Minestra Maritata (which refers to the "marriage" of vegetables and meats, and does not mean it is a soup reserved for celebrating marriages, as someone in history once assumed), is made from leafy greens and either meatballs or sausage in chicken broth. What makes Italian Wedding Soup an Italian-American soup and not simply an Italian soup is largely because of the widely agreed-upon name change, but also because Italian immigrants had to adjust their family recipe upon moving to the States based on the meats and green vegetables available to them in the new country.
Garlic bread
While Italians are proud of their fresh olive oil, Americans love cooking with butter. It is for this reason that Italian immigrants, as they became accustomed to typical American cooking styles, slowly transitioned from making Italian bruschetta with olive oil, to inventing garlic bread with butter. Italian bruschetta is made from rubbing garlic onto grilled slices of bread, and topping it off with olive oil and salt. Because olive oil was not easily available to Italians during the first waves of immigration to America, they were forced to make substitutions: butter instead of olive oil.
Surprise!
I bet you were expecting to see Chicken Fettucine Alfredo on this list. But, no. Most Italian-culture enthusiasts are well aware that Chicken Fettucine Alfredo is not a traditional Italian dish, but did you know it's not an Italian-American dish either? That is to say, this dish wasn't made famous by Italian immigrants in America. This dish has genuinely Italian roots; Alfredo di Lelio, an Italian citizen living in Rome in the early 1900s, invented a simple pasta sauce for his newly post-partem wife who had lost her appetite but needed something good and filling to eat. This pasta sauce was made of only butter, parmesan cheese, and a bit of pepper. His wife liked it, and soon it was added to the menu of Alfredo's restaurant. Fast forward a few years, and a few Hollywood stars traveled to Rome together and enjoyed a plate of Alfredo's not-yet-famous pasta. Those celebrities then return to America, raving about the delicious food they had eaten in Rome. And that is how Fettucine Alfredo travelled to the States.
But where did the chicken come from? Like many Italian-American dishes, adding meats and proteins to pasta became an American trend – even though it is an unheard of concept in Italy. Nowadays, it is very common to find chicken or shrimp tossed in with Alfredo's sauce, which is also now modified to include cream in the buttery sauce.
But I suppose when it all comes down to it, does it really matter where these dishes come from? Whether these dishes have authentic Italian roots, the plate is so Americanized that Italians no longer recognize the original dish, or if the dish was entirely invented by an immigrant… These ponderings are less important. What is most important is enjoying healthy, quality, delicious food and sharing it with friends and family.