24 Most Popular Calabrian Dishes
Beautiful and wild, Calabria is a region to discover that has so much to offer to its visitors: millenary traditions, crystalline seas, lots of nature, cities of art, a warm welcome, and incredible panoramas are just some of the many reasons why it should be visited.
In addition to the things to see in Calabria, another reason to visit this region is its excellent cuisine, based on tasty and genuine ingredients.
Calabrian cuisine was born as a poor cuisine of peasant tradition. A cuisine made with seasonal ingredients that the land offers, strongly linked to religious beliefs and the festivities that mark the year; for the Christmas holidays, for example, it is still customary today to bring thirteen courses to the table.
On the other hand, pork is the protagonist during the Carnival period, with meatballs and macaroni.
At Easter, lamb is inevitable; we could continue with the list. Calabria is also famous for its spicy chili dishes; an example is the 'Nduja, a very spicy sausage with a soft consistency, perfect for spreading on hot croutons.
In this region, the culinary tradition varies significantly according to the locality; only a few dishes remain intact throughout the territory.
Given the high temperatures that affect this region during the summer months, preserving food has always been an essential point of the local cuisine; the catch and the meat of the animals had to be kept, without spoiling, for a long time.
For this reason, many of the most typical foods, such as 'nduja, are precisely preserved foods and use a lot of chili pepper.
Among these, we also find salted anchovies, prepared by desalting them and preserved in oil with the addition of chili pepper, obviously also helpful in preventing the formation of food botulism.
What to eat in Calabria? 24 Most Popular Calabrian Dishes
'Nduja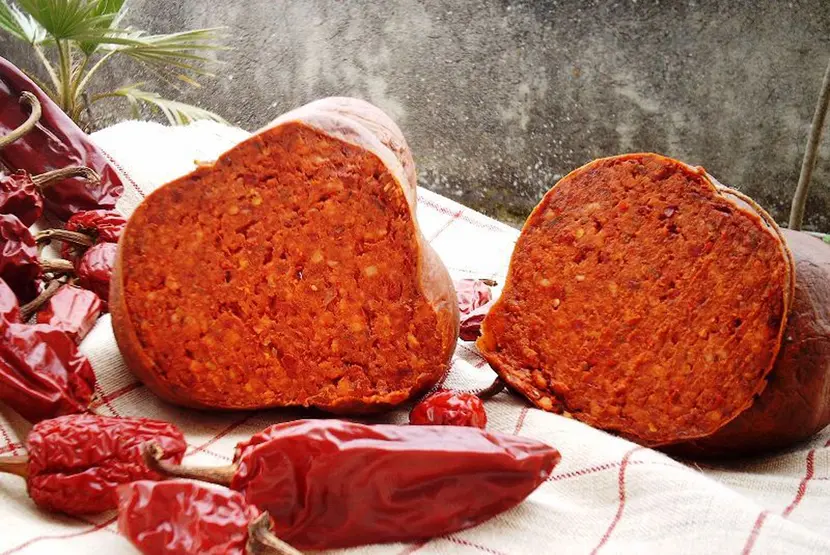 This soft sausage with an intense and spicy taste is one of the symbols of Calabria. Originally from Spilinga, it is a mixture of pork and chili pepper and is simply delicious.
All thanks to the genuine flavors inside: preparing 'nduja means, first of all, quality, but also patience and tradition.
The real protagonist, however, is the chili pepper: it acts as a natural preservative due to its antiseptic and antioxidant properties.
After having stuffed it into casings, the 'nduja is smoked for ten days and aged for at least one year. The 'nduja can be spread on bread, pizza, and pasta and is also an excellent ingredient for preparing sauces and sautéed foods.
Caciocavallo Silano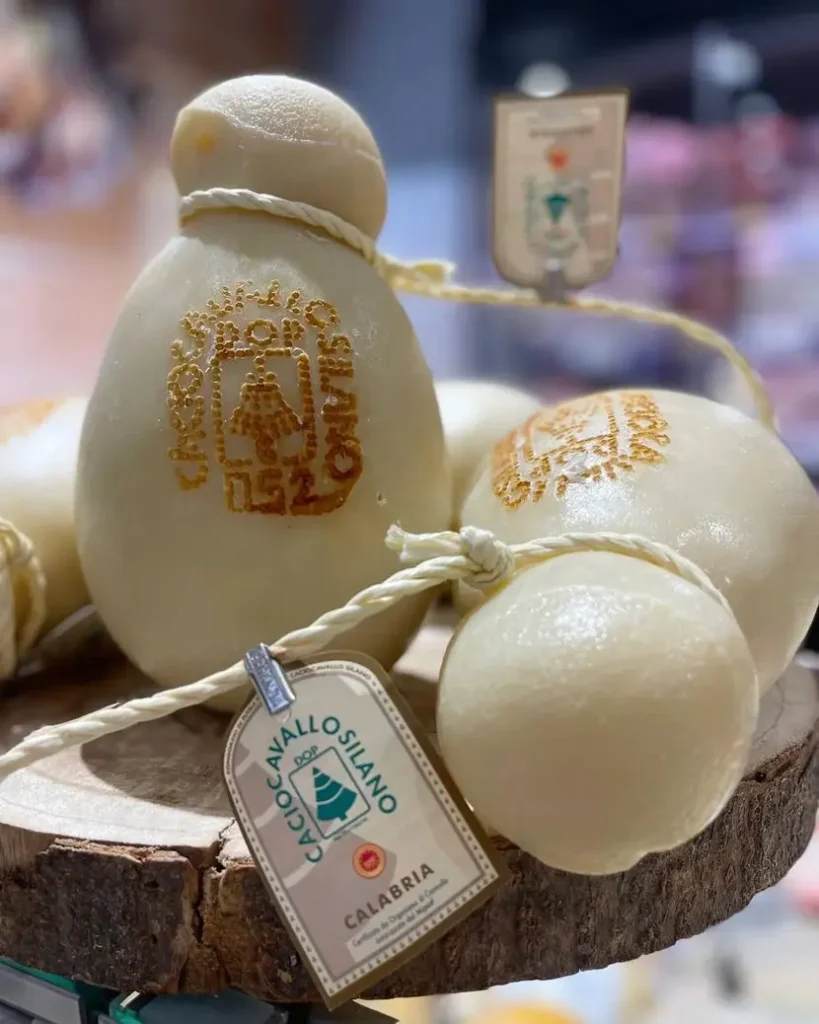 This traditional cheese owes its name to its particular shape, which resembles a horse's head, complete with the bridle. Its aromatic and delicate flavor represents one of Calabria's typical dishes to be noticed. It is typical of the Sila mountain area in the Cosenza province.
Sardella
This fish preserve is traditionally prepared with white bait fish. The newborn sardines are mixed with lots of chili pepper and wild fennel. Despite the history and importance of the product at a local level, fishing for whitebait is now prohibited in the EU. Therefore in Calabria, icefish are used as a substitute, a species of fish that maintains its juvenile characteristics even as an adult. Sardella is used to be eaten with plenty of oil.
Pitta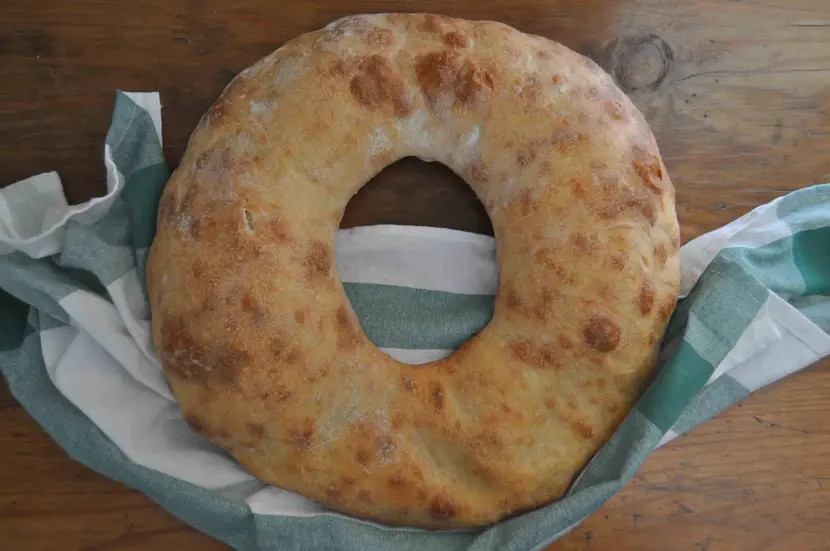 The Calabrian Pitta is a typical donut of bread characterized by a round and flattened shape, a central hole, and a small amount of crumb.
Thus, The Pitta becomes an empty sandwich with a crunchy casing just waiting to be stuffed, for example, Morzello and Sardella, Provola, Pecorino, pepper sauce, fried aubergines, and more. Like all forms of bread worthy of the name, Pitta has variations throughout the region.
Morzello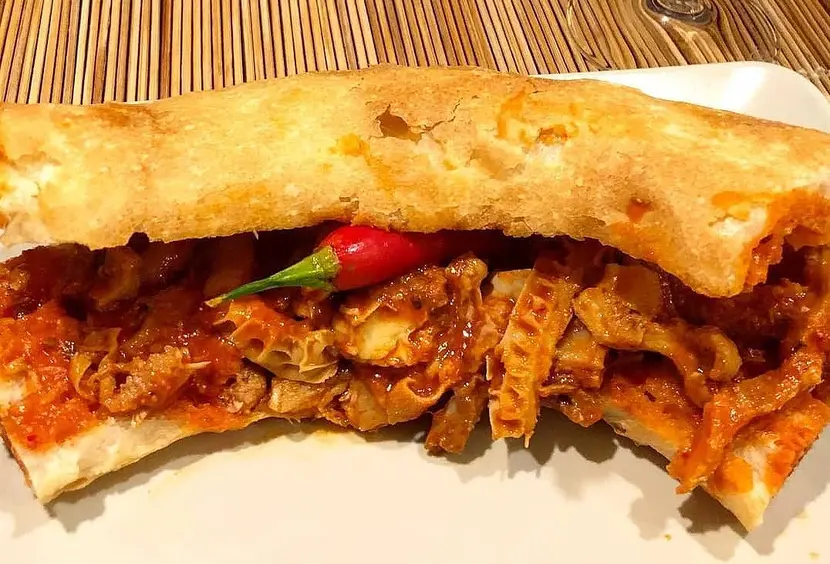 Typical of the city of Catanzaro, 'u morzeddhu is a sandwich stuffed with tripe and bovine offal. It is a preparation based on veal meat for which the innards are used.
The heart, lungs, spleen, liver, stomach, tripe, and intestines are the ingredients of this hearty dish. Everything is cooked in tomato sauce and enriched with hot pepper and oregano. Morzello was traditionally eaten as a morning snack. In fact, around ten o'clock, many workers already had four or five hours of work behind them.
Tradition has it that it is eaten hot and served accompanied by Pitta, a homemade bread with a circular shape and a soft consistency.
Frittola
In Reggio Calabria, the Frittola is a dish of poor cuisine made with pork. For this preparation, a large quantity of pork fat is melted in a special saucepan called "caddàra"; after having added a little water, various parts of the animal's waste are incorporated (snout, cheek, rind, tongue, ears, kidney) and everything is boiled for at least six hours.
The Calabrian Frittola is strongly connected to the pig-killing ritual. This collective event took place between Christmas and Carnival.
Sweet and Sour Tropea Onions
Finding ourselves in Calabria, this dish uses the famous red onions of Tropea, which are not very spicy. It is a delicious preparation usually served as an appetizer that uses only onions, vinegar, and sugar. It is cooked for several minutes until a soft and creamy consistency is reached.
Fileja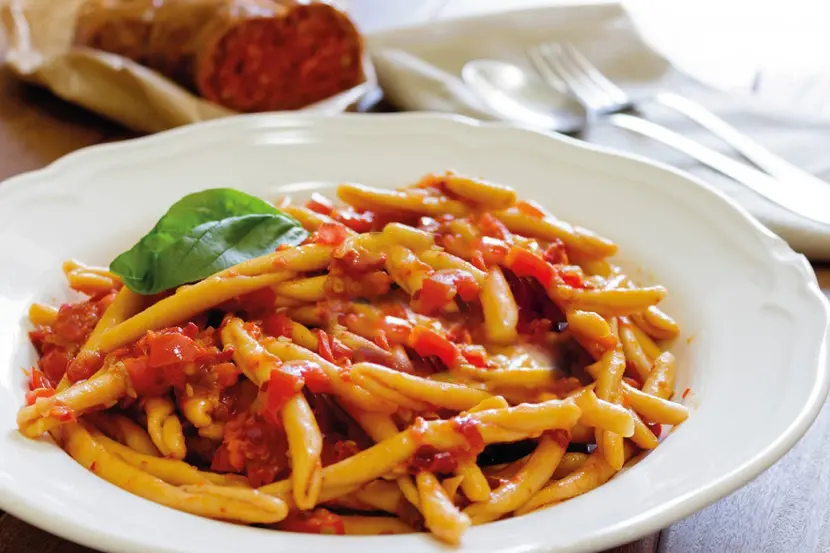 Fileja is a typical Calabrian pasta format, with an elongated shape of about 10 cm and a curved shape twisted on itself. In some areas, however, it is called "Scilatelli."
The preparation of the pasta takes place simply with water and durum wheat semolina flour. As for the combination, it usually prefers delicious sauces.
It is typically served with wild boar ragù or a tomato sauce enriched with 'nduja and ricotta cheese. However, it is prepared in restaurants and Calabrian homes in the most varied ways.
Fraguni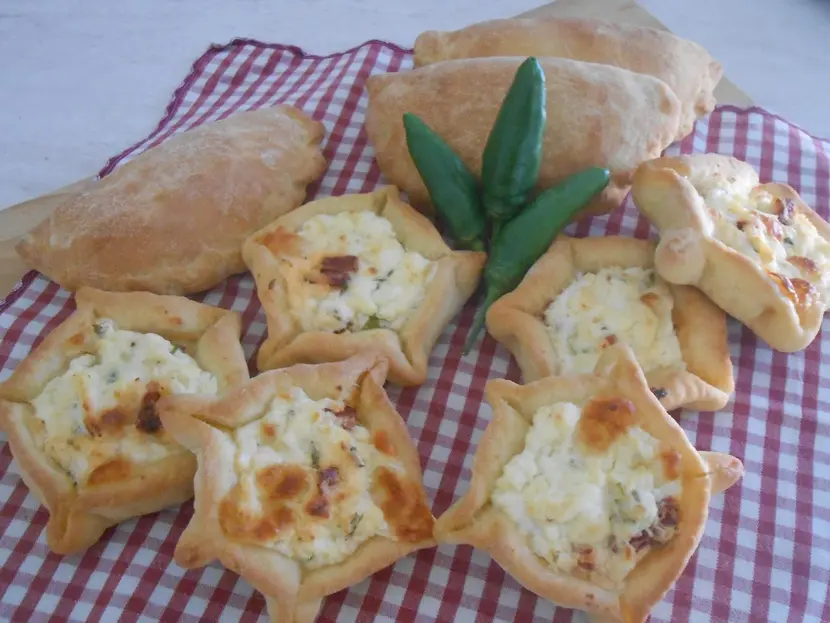 They are stuffed scones typical of the Easter period. Traditionally, on Good Thursday and Friday, the ovens of the Calabrian hinterland are at full capacity with Fraguni because of Easter Sunday.
To be precise, Fraguni are small bread dough-based focaccias; the filling is potatoes and cheese (but also eggs, herbs, salami, or desserts with ricotta cheese and sugar).
Stuffed aubergines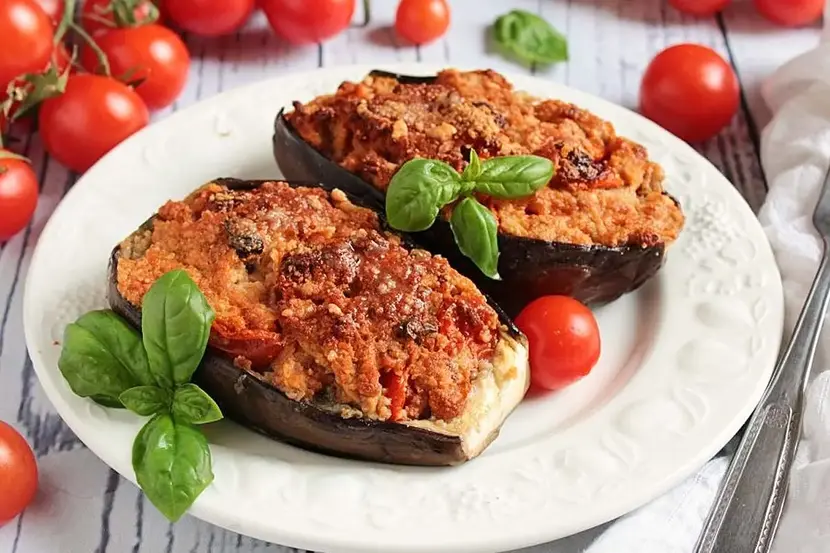 Stuffed aubergines are another typical recipe from Calabria, now widespread in most of southern Italy, often revisited using zucchini or peppers.
The preparation calls for the aubergines to be cut in half lengthwise and hollowed out to be stuffed with their pulp mixed with minced meat, egg, breadcrumbs, and cheese.
Tomato puree and pieces of Provola cheese are then added to each aubergine. Finally, it is put in the oven.
Mammola-style stockfish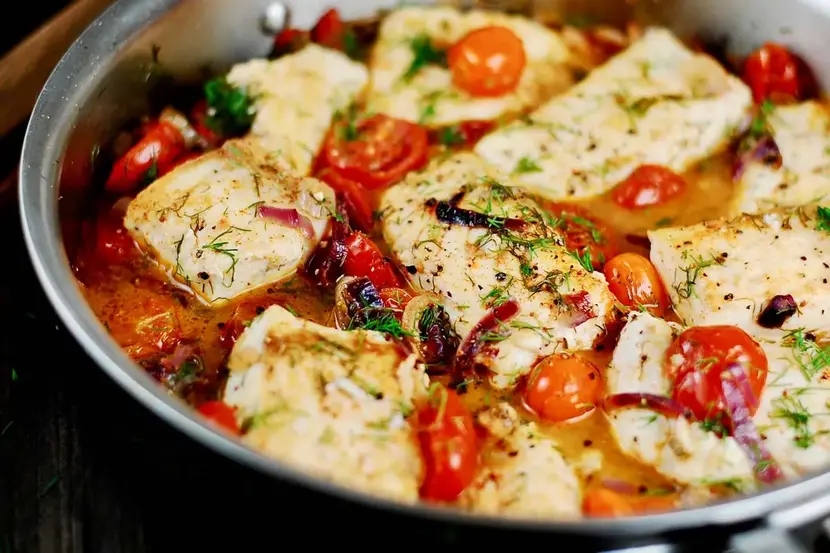 The dried cod takes us to Mammola, in the province of Reggio Calabria. Mammola-style stockfish is a traditional dish that has fed generations of farmers and laborers, minus the fishermen who could afford the luxury of fresh fish.
Stockfish had all the attributes of an economical and nutritious lunch break: long shelf life, low price, and high energy value. Adding fresh produce from the garden, such as tomatoes, potatoes, and peppers, has also become a real treat.
Vrascioli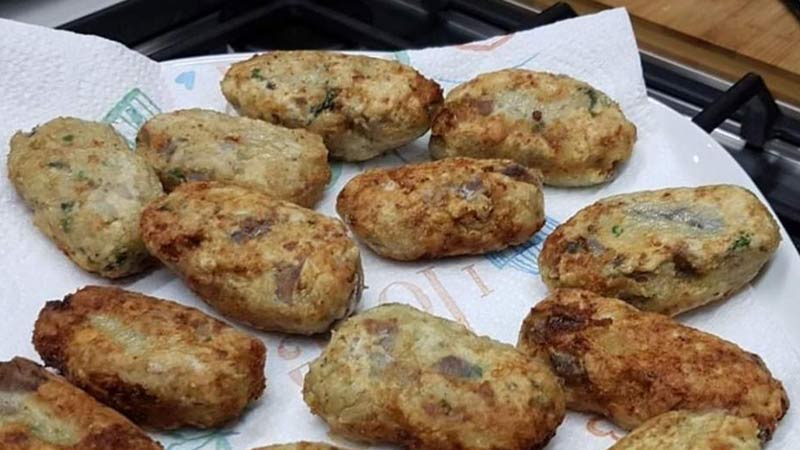 They are fried meatballs and aubergines that Calabrian grandmothers fry, braise and bake—authentic delicacies typical of the Calabrian tradition.
Pipi Chini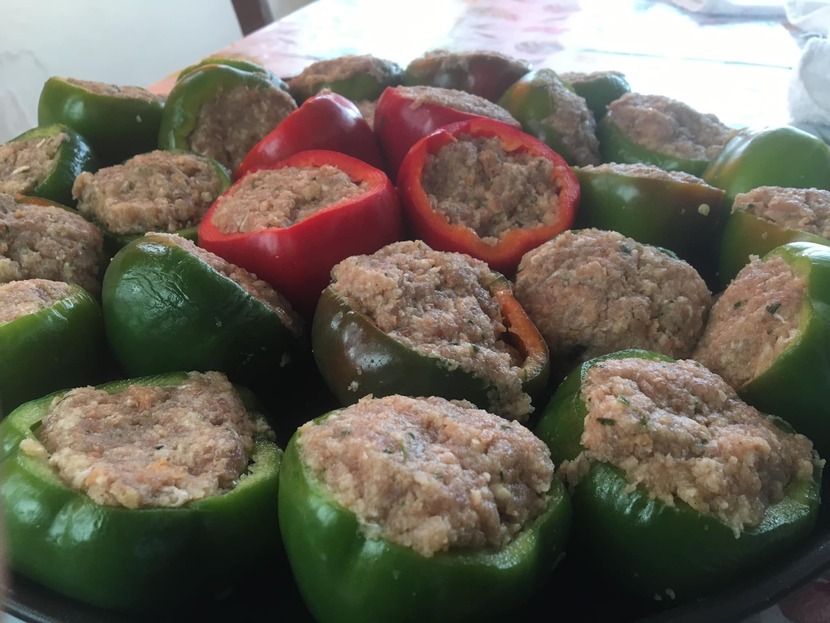 Stuffed peppers are not a side dish at all, but an actual meal. Also, for this traditional Calabrian dish, the substance varies according to the place.
The basic version includes breadcrumbs, eggs, cheese, and parsley; in other cases, minced pork, mortadella, Provola, and ham are added as desired.
Soppressata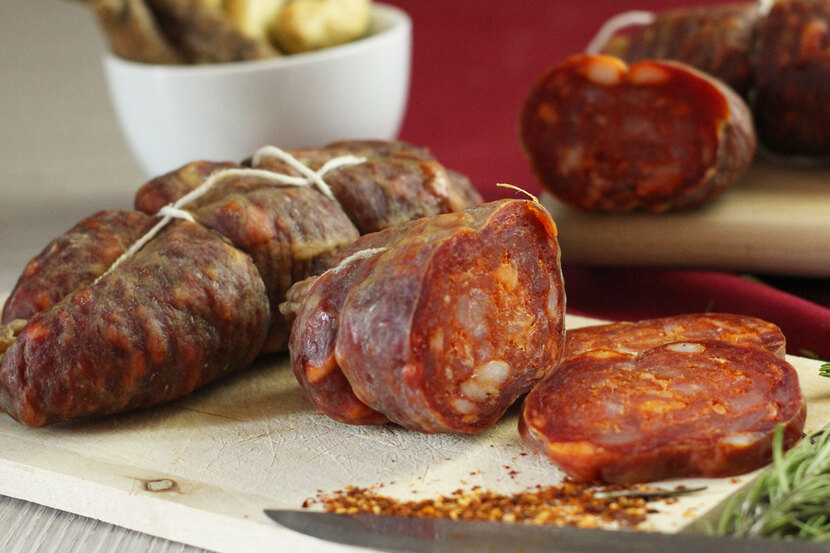 The soppressata has very ancient origins. Unlike other cured meats, the soppressata has a flattened shape caused by the pressing it undergoes during drying. The soppressata are placed on a table with some weights to obtain the right pressing. At this point, the products are left to mature for at least 45 days.
The blend can be enriched using salt and black or red pepper flavors.
The soppressata is one of the symbols of Calabrian gastronomy. The province of Cosenza is the main center of production.
Cuzzupa
When Easter approaches in Calabria, in the pastry shops, and the homes of the Calabrians, you see nothing but Cuzzupe.
This typical dessert of the Easter holiday is prepared as a symbol of the end of the Lent fast. The dough is very simple (only eggs, milk, flour, sugar, and yeast), but its peculiarity lies in placing a whole egg (with a shell) at any point of the cake, which symbolizes the resurrection of Jesus.
Another peculiarity of Cuzzupa lies in its shape. This sweet is prepared with classic forms and disparate shapes, such as alphabet letters or animals.
La pitta 'mpigliata
Pitta 'mpigliata is a typical dessert of the province of Cosenza. Born as a wedding cake in the town of San Giovanni in Fiore, this richly spiced twisted pastry filled with dried fruit is now a fixed presence on Christmas tables.
There is a special place for it in Catanzaro, where it takes the name of pitta 'nchiusa in the shape of a crushed rose. It always appears when there is some event to celebrate.
Sanguinaccio
In Calabria, the tradition of killing pigs to create exquisite preserves has ancient roots. It is still widespread today, always following the same rule as years ago: nothing is thrown away.
What does pork have to do with sweets? The Sanguinaccio is an unusual dessert that has pig's blood as its essential ingredient, but strange as it may seem, it is delicious and appreciated.
We are talking about one of the inevitable winter desserts in Calabria, for which the still-warm blood must be collected and worked ad hoc to avoid clotting.
The cream is then created by combining milk, sugar, cocoa, cinnamon, and cloves.
Finally, walnuts, almonds, raisins, and pine nuts are also added to the mixture. Once cold, it is enjoyed by spreading it on bread.
Pizzo truffle
Originally from Pizzo Calabro, a town on the Tyrrhenian coast, the Pizzo truffle, like all good things, was born by chance in the rigorously artisanal laboratory of the Dante ice cream shop.
It is a sphere of ice cream with a soft heart inside whose original recipe calls for the ice cream to be hazelnut, the heart to be made of melted dark chocolate, and covered with bitter cocoa on the outside. There are variations of all types (pistachio, fruit, white chocolate, etc…).
Crocette with figs
Crocette with figs is a straightforward yet tasty, typical recipe from Calabria. So easy and quick to prepare that you need to cut some dried figs in half to insert the walnuts inside.
You must then close them and place them on a baking sheet by superimposing two at a time to form crosses.
Finally, they are baked for about twenty minutes and served sprinkled with white sugar.
Mostaccioli
In Soriano Calabro, a town in the province of Vibo Valentia, the recipe for mostaccioli was born, now known and prepared throughout Calabria.
Mostaccioli are particularly soft biscuits with a golden color and the most varied shapes ranging from animals to flowers.
Their dough is obtained simply from flour, honey, and wine must, and the most common shapes are the rooster, the fish, the horse, the man, the woman, the palm, the S, and the heart.
To complete the decoration, at the end of cooking, tiny scraps of colored aluminum foil are also added, for example, on the eye or the hair of the depicted subject.
Finally, like any dessert, even the mostaccioli have variations: some prepare the dough with orange, and others cover them with dark chocolate instead.
Pignolata
Pignolata is a typical Calabrian and Sicilian sweet, born between the provinces of Reggio Calabria and Messina, initially conceived for the Carnival party and subsequently prepared at any time of the year.
It is a pile of small balls obtained from a simple dough, fried, and then covered half with a black chocolate glaze and half with a white lemon glaze.
The most widespread area in Calabria goes from Melito Porto Salvo to Scilla, where the white cover is inevitably replaced by the bergamot or citron variant.
Licorice
Calabrian licorice is considered one of the best in the world. This ancient food is appreciated for its digestive properties and is distinguished by its typical bitter-sweet taste.
The licorice plant has been cultivated on the Calabrian coasts since the 1600s. It is harvested all year round, and, depending on the product, it can be dried or treated with water to extract the juice.
Calabrian licorice is marketed in fresh, dry, and root extract types. It has a sweet, aromatic, intense, and persistent flavor. We obtain infinite types of pure and flavored candies, ice cream, biscuits, and liqueurs.
Coffee soda
Not every day, you find the words "soda" and "coffee" in the same sentence. The drink is strictly called the reference brand in Calabria: "Brasilena."
This soft drink is a real institution, and there's more: the provinces of Cosenza, Catanzaro, and Reggio Calabria, headquarters of the three leading manufacturing companies, compete in claiming authorship and superiority of the recipe, an invention which, it seems, dates back to the early twentieth century.
The fresh, sparkling, and energizing coffee soda is an excellent tonic, especially on hot summer days.
Bergamot liqueur
Calabria is also known for the bergamot, a citrus fruit typical of the Mediterranean area whose cultivation occurs mainly in Reggio Calabria. As with any fruit, bergamot is also used in various preparations (jams, creams, ice creams, etc.), including liqueur.
The bergamot liqueur must be tasted absolutely if you go to Calabria; a must in the houses of the Calabrians in the area and every shop selling typical products.